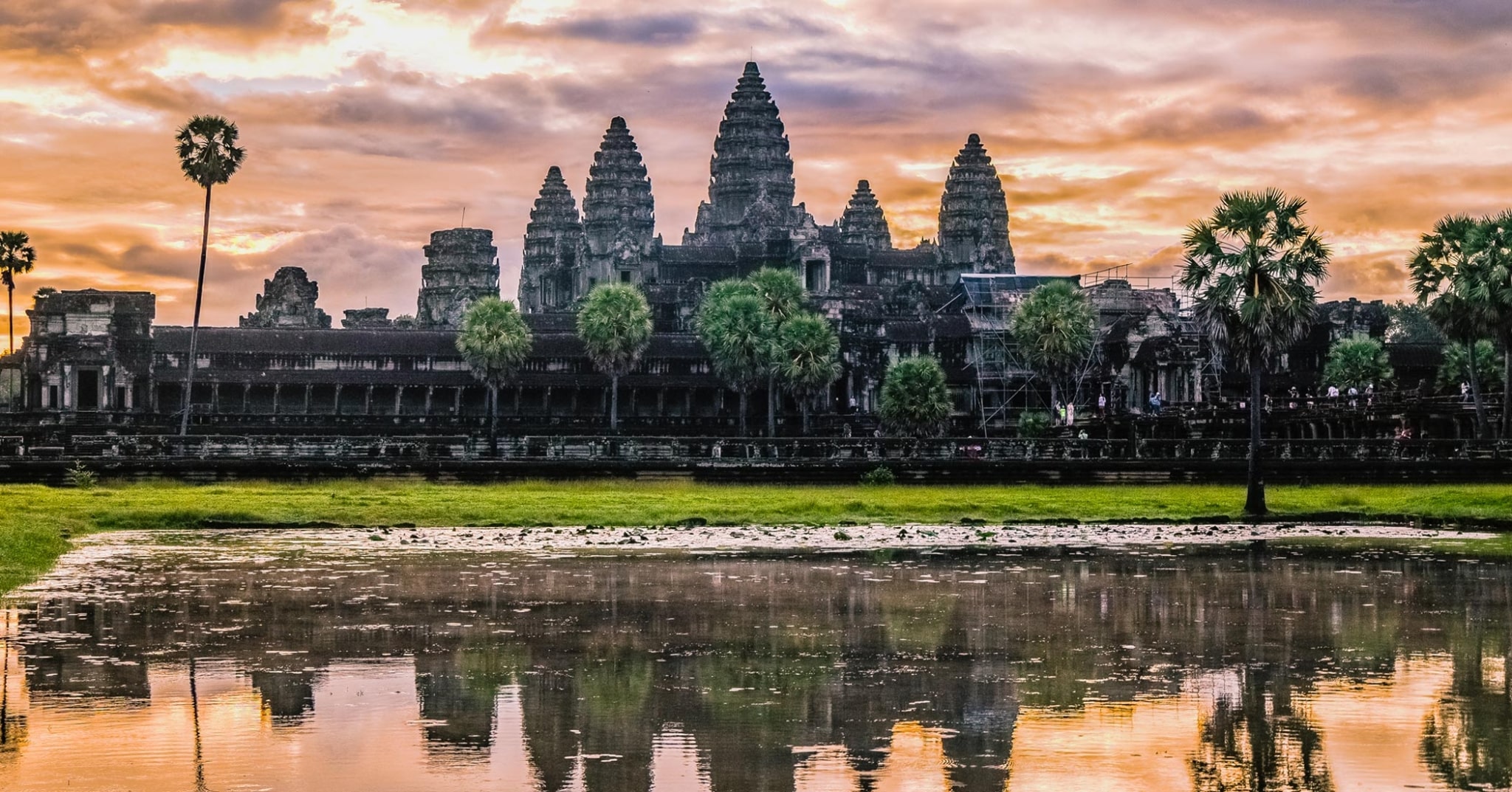 Today is King Father's Commemoration Day in Cambodia.  When I think of Cambodia, I think of Buddhist monks and ancient temples, Angkor Wat in particular.  Constructed in the early 12th century, Angkor Wat is considered to be the largest religious monument in the world. It is still being used by Buddhist as a place of worship today.
Daily Observances Around the World
Breast Health Day (Europe)
Evacuation Day (Tunisia)
Global Handwashing Day

King Father's Commemoration Day (Cambodia)
National Latino AIDS Awareness Day (United States)
Pregnancy and Infant Loss Remembrance Day  (Losing a child is something no parent should have to feel.  But the unfortunate reality is that too many children leave this world before their parents do.  Light a candle today in remembrance of the children who have left us.  Find out more at oct15.com)

Spirit Day (International observance)
Teachers' Day (Brazil)
White Cane Safety Day (United States)
Other Observances
"I Love Lucy" Day
International Adjust your Chair Day
International Day of Rural Women (Women account for a substantial proportion of the agricultural labor force, including informal work, and perform the bulk of unpaid care and domestic work within families and households in rural areas.   Today we celebrate that Girl Power!!!)
Multicultural Diversity Day
My Mom Is a Student Day
National Aesthetician Day
National Cheese Curd Day
(Did you know you can make cheese curds at home?  Yep. It's not as difficult as you might think.  Head over to foodandwine to find out how)
National Chicken Cacciatore Day
8 chicken thighs, with the bone, skin removed
28 oz can crushed tomatoes (Tuttorosso my favorite!)
1/2 red bell pepper, sliced into strips
1/2 green bell pepper, sliced into strips
1/2 large onion, sliced
1 tsp dried oregano
1 bay leaf
salt and fresh pepper to taste
1/4 cup fresh herbs such as basil or parsley for topping
Quick method:
Season chicken with salt and black pepper and place in the slow cooker.
Pour tomatoes over the chicken, top with onions and peppers, add oregano, bay leaf, salt, and pepper, give it a quick stir and cover.
Set crock pot to LOW 8 hours or HIGH 4 hours.
When the timer beeps, remove the lid and keep the crockpot on HIGH one hour to help it thicken.
Better method but requires more prep:
Heat a large skillet over medium-high, lightly spray with oil (I use my Misto) and brown chicken on both sides a few minutes, season with salt and pepper. Add to the slow cooker.
To the skillet, spray with a little more oil and add onions and peppers. Sauté until juices release and the vegetables become golden.  Add to the slow cooker. Pour tomatoes over the chicken and vegetables, add oregano, bay leaf, salt and pepper, give it a quick stir and cover.
Set crock pot to LOW 8 hours or HIGH 4 hours. Remove bay leaf, adjust salt and pepper and enjoy!
National Clean Your Virtual Desktop Day
National Grouch Day (According to Sesame Street Magazine, today is a day for all Grouches to celebrate their way of life.)
National Mushroom Day
National Pug Day
National Roast Pheasant Day
Sewing Lovers Day
How to Sew A Button
Everyone should know the basics, including how to sew a button.  Here is a short clip explaining the process.
If you enjoyed this post and would like to see more please subscribe to my blog.  Share this post with your friends via the media links below.
Tomorrow's Post Topic:Felines and Their Impact on Egyptian History
About Cynthia Brandel
Other than being an awesome mom and a devoted wife, Cynthia is an avid explorer traveling through the galaxy of her mind meeting new and interesting people along the way.  Her destination is unknown, but the fun is in the journey.
Cynthia's first exploration took her to the world of Sanctoria, a place full of magic and mystery.  After falling in love and leading an army to war, Cynthia left Sanctoria and continued on her journey.
Currently, Cynthia resides in one of the Revenant cities on Earth.  What mysteries will the city hold and where will Cynthia end up?  Who knows?  But you can guarantee that Cynthia will tell us all about it in The Curse of Judas (Book 1 of the Revenant City Series).  Check out a preview of the first two chapters for free.