Money.  It is both loved and hated by all.  In the modern world, money is a necessity for survival.  Paying bills, buying medicine, clothes, food, rent….money, money, and more money.  If you are like me, money doesn't flow freely into the palm of my hand.
Here are a few ways you can save some $$$.
Grow your own food.
Adjust your thermostat for the times when you aren't home
Cook at home.  Don't eat out.
Hang your clothes out to dry rather than using the dryer
Use a washable cleaning cloth rather than paper towels.
Daily Observances Around the World
World Standards Day
World Standards Day is sponsored annually by the International Organization for Standardization (ISO), the International Electrotechnical Commission (IEC), and the International Telecommunications Union (ITU).
The goal of World Standards Day is to raise awareness of the importance of global standardization to the world economy and to promote its role in helping meet the needs of business, industry, government, and consumers worldwide.
Other Observances
Be Bald and Be Free Day
National Chocolate-Covered Insect Day
National Dessert Day
National FRUMP Day
National lowercase day
Pastor Appreciation Day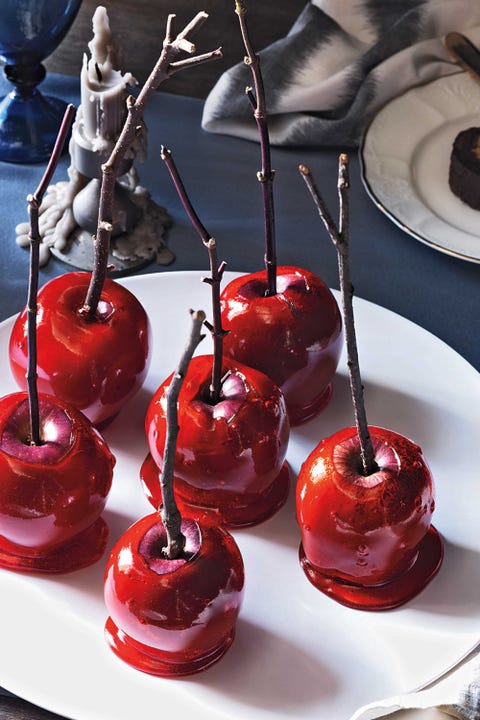 Candy Coated Apples
12 
very small Red Delicious apples (from bagged apples)
1 c.
each light corn syrup and hot water
1/2 c.
red cinnamon candies (like Red Hots)
1/4 tsp.
liquid red food color
DIRECTIONS
Line a large baking sheet with nonstick foil or parchment paper.
Wash and thoroughly dry apples; remove stems. Insert twigs firmly into stem ends.
Combine sugar, corn syrup and water in a medium saucepan over medium-high heat; stir until sugar dissolves. Attach a candy thermometer to the side of the pan. Continue to cook, without stirring, until mixture reaches 250°F (wipe down sides of pan with a wet pastry brush occasionally to prevent crystallization).
When mixture reaches 250°F, add cinnamon candies and stir just to blend. Continue to cook until 300°F, about 15 to 20 minutes. Remove syrup from heat and swirl in food color, tilting saucepan, until blended. Let mixture settle for a minute until bubbles slow down.
Holding an apple by the twig and tilting pan, dip and swirl apple until coated. Lift apple and gently twirl over the saucepan, letting excess drip back into the pan. Place on prepared baking sheet, twig up. Repeat with remaining apples.
Allow apples to stand at room temperature until candy coating hardens, about 1 hour. Candy apples can be made up to 1 day ahead and stored at room temperature.
If you enjoyed this post and would like to see more please subscribe to my blog.  Share this post with your friends via the media links below.
Tomorrow's Post Topic: Angkor Wat The City of the God Kings
About Cynthia Brandel
Other than being an awesome mom and a devoted wife, Cynthia is an avid explorer traveling through the galaxy of her mind meeting new and interesting people along the way.  Her destination is unknown, but the fun is in the journey.
Cynthia's first exploration took her to the world of Sanctoria, a place full of magic and mystery.  After falling in love and leading an army to war, Cynthia left Sanctoria and continued on her journey.
Currently, Cynthia resides in one of the Revenant cities on Earth.  What mysteries will the city hold and where will Cynthia end up?  Who knows?  But you can guarantee that Cynthia will tell us all about it in The Curse of Judas (Book 1 of the Revenant City Series).  Check out a preview of the first two chapters for free.